Paula Clare Harper is an Assistant Professor in the Department of Music and The College at the University of Chicago. She received her PhD in Historical Musicology from Columbia University in 2019, and prior to her appointment at UChicago she served as an Assistant Professor at the University of Nebraska – Lincoln and as a Postdoctoral Teaching Fellow at Washington University in St. Louis. She teaches courses on American Popular Music, Listening in Digital Culture, and Women in Music Videos.
Paula's research centers around music, sound, and the internet, with focuses on issues of circulation, sharing, sociality and social media, fandom, gender, and representation. Her current book project, Viral Musicking and the Rise of Noisy Platforms, documents the early 21st-century rise of ubiquitous social media platforms through an understanding of them as mechanisms for facilitating virality—a virality that is deeply sonic, and that can be productively analyzed as musicking. From Geocities and Webrings to Twitter and TikTok, the book charts a trajectory in which unpredictable virtual landscapes were tamed into entrenched channels and pathways, through exchanges between the vernacular work of digital actors and the top-down corporate attempts to capture, corral, and control their viral participatory practices. 
Paula has presented on topics ranging from Beyoncé, to Taylor Swift, to internet musical practices, at conferences across the country and internationally. Her work has been published in the journals Popular Music and Society, Sound Studies, and The Soundtrack, as well as in special issues of American Music and Twentieth-Century Music, both of which she co-edited. Her expertise has been featured in a variety of media outlets, including Vulture, The Wall Street Journal, Jezebel, Vice, and the Sound Expertise podcast.
In addition to her solo book project, Paula is one of the co-authors of the edited collection Taylor Swift: The Songs, the Star, the Fans, currently forthcoming from Routledge. This book—the first academic book focused on the superstar singer-songwriter—builds on the success of the Taylor Swift Study Day: Eras, Narrative, Digital Music and Media, an interdisciplinary virtual symposium that took place in July 2021 that Paula co-organized with fellow co-editors Christa Bentley and Kate Galloway. She was also one of the co-organizers of the hybrid Music and the Internet conference in 2023, and one of the co-founders of the digital colloquium Music Scholarship at a Distance, a virtual forum for music studies convened in the wake of the COVID-19 crisis.
Equally passionate about her role as an instructor, Paula served as a Teaching Observation Fellow in 2017-2018 through the Columbia Center for Teaching and Learning, and was the proud recipient of the 2016 Meyerson Award for Excellence in Core Teaching.
Beyond campus, the library, and the classroom, Paula sings as choral musician, bakes when she's stressed, and watches Star Trek.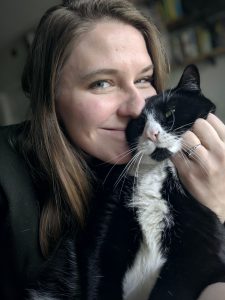 Contact Paula at pch9857@gmail.com or say hi to her on the internet.