Paula Harper received her PhD in Historical Musicology from Columbia University in 2019; her dissertation is entitled "Unmute This: Sound, Circulation, and Sociality in the Rise of Viral Media." She currently holds an appointment as a Postdoctoral Teaching Fellow at Washington University in St. Louis, where she teaches courses on American Popular Music, Listening in Digital Culture, and Women in Music Videos. Her research centers around music and sound and the internet, with focuses on issues of circulation, sharing, sociality and social media, fandom, gender, and representation. She has presented on topics ranging from Beyoncé, to Taylor Swift, to internet musical practices, at conferences across the country and internationally. At Columbia University, Paula served on the editorial board of the Current Musicology journal, and was one of the chairs of the 2017 Columbia Music Scholarship Conference. This year, she is also serving a term as a student member of the Graduate Education Committee of the American Musicological Society.
Equally passionate about her role as an instructor, Paula has taught several semesters of Music Humanities in the Columbia Core curriculum; she served as a Teaching Observation Fellow in 2017-2018 through the Columbia Center for Teaching and Learning, and was the proud recipient of the 2016 Meyerson Award for Excellence in Core Teaching.
Beyond campus, the library, and the classroom, Paula sings as a soprano and choral musician around St. Louis and New York City, and serves as a staff singer at The Oratory Church of St. Boniface in Brooklyn.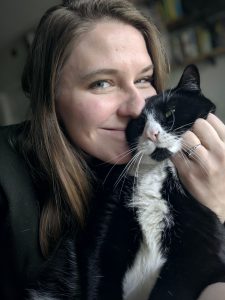 Contact Paula at paula.c.harper@wustl.edu or say hi to her at an upcoming conference.